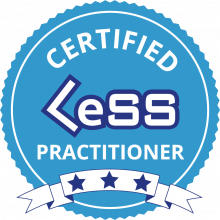 Certified Large-Scale Scrum (LeSS) Practitioner
The Certified LeSS Practitioner course is an in-depth course covering the LeSS principles, framework and rules, and guides. This is not your standard agile training course or your standard course on the Scrum framework. It is so much more.
Whether you are a newly minted Scrum Master looking to accelerate their Scrum knowledge, a Product Owner wanting to find out how to make Product delivery work at scale or a manager needing guidance on organisational design, this is the course for you.
Check out what our previous attendees say here.
What is LeSS?
Large Scale Scrum (LeSS) was created by Craig Larman, and Bas Vodde is a unique blend of organisational design, framework, principles, rules and guides. It is the only tried and tested Scrum-based framework that has successfully allowed companies to deliver complex products with multiple agile teams all working in harmony.
It has all of the Scrum practices, such as the Sprint Review, Sprint Retrospectives and Sprint Planning. More than this, it adds a whole group-wide Retrospective known as the Overall Retrospective. This is the ideal event for Scrum Masters to share systemic insights and something you can learn so much more about on the Certified LeSS Practitioner course.
Want to know how it works? We recommended this video to give you a taster and this course for the full meal.
 LeSS is much more than just the LeSS and LeSS Huge frameworks.
What's The Most Critical Insight For Someone To Understand About LeSS & The Certified LeSS Practitioner Course?
That it is not a practice or process, and this is more than just your standard agile training.
Instead, LeSS is an organisational design which impacts group structures, hierarchy, site strategy, roles, positions, processes, and basic policies (such as budgeting, career path, and rewards).
Organisational design is the proper remit of executive management, so you must act to learn and lead a successful LeSS adoption. This is not something you can "phone in" your support for or delegate to mid-level management.
A second critical understanding is that this change involves both Product Management and R&D (or "business" and "IT") together, so heads of both groups will want to attend together.
As highlighted in The Fifth Discipline — by MIT Sloan School of Business professor Peter Senge and named by the Harvard Business Review as one of the seminal management books of the past 75 years — a critical skill for leadership is Systems Thinking, which is also a cornerstone principle of LeSS.
Therefore, a significant part of the course focuses on active learning to apply Systems Thinking to your organizational system and a LeSS adoption, with Causal Loop Modelling in small groups working together
Project to Product
Large Scale Scrum goes above and beyond the Scrum Framework and practices It provides essential guidance for moving from a Project-driven to a Product-led organisation through using & improving LeSS.
LeSS Framework – Roles, Events & Guides

The course deeply delves into the most critical part of the LeSS Framework.
We learn the LeSS events and how to facilitate them whilst building a Lego town.
We explore why the Scrum Team does not exist in LeSS and what replaces it
How the role of the Product Owner shifts from being involved in the clarification of Product Backlog Items to setting the direction of the Product
We make clear how the role of Scrum Master evolves to cover multiple teams
We introduce new roles such as LeSS Manager and Area Product Owners in LeSS Huge and spend time understanding how Scrum Masters can support them effectively.
Exercises and extensive LeSS Q&A to ensure we discuss the topics most interesting to the participants.
What, No Scrum Team?
You got it. In LeSS, there is no Scrum Team, not one. the roles you would expect are still there (Product Owner, Scrum Master and Team), with the Scrum Team concept being replaced by the Product Group. Sound a bit confusing? It won't be after three days of the Certified LeSS Practitioner course!
LeSS Adoptions
The course provides guides and principles for how the role of Scrum Master can be critical to a well-working usage of Large Scale. These guides and principles are brought to life through real-world adoption stories, such as this one at the Royal Bank of Scotland.
Is There A Certification Exam?
No, with the Certified LeSS Practitioner agile training, there is no certification exam. Participants of this course will have to complete a short "priming" test to help them identify their LeSS blind spots, for example, regarding the role of Scrum Master in relation to multiple cross-functional self-managing teams or how continuous improvement takes place within the Scrum framework. With the blind spots identified, we create a safe space in our classes to share these, explore them and make sure they are not blind spots by the time you leave.
The Role of Scrum Master in LeSS
The best way to describe a Scrum Master is LeSS as a Product Group Coach, much more similar to what we know as an Agile Coach role. Part of this increase in responsibility is due to the replacement of the Scrum Team with the Product group, which leads the scope of the Scrum Master role to increase.
We are firm believers that LeSS has got the Scrum Master role right and corrects many of the wrongs that have crept into Scrum since its inception by Ken Schwaber and Jeff Sutherland all those years ago.
Who Is This Course For?
The Certified LeSS Practitioner course is for:
Scrum Master's
Product Owner's
Managers

 

in an Agile environment
Project Managers (whether agile projects or otherwise)
Anyone involved in a LeSS effort
Anyone who is LeSS Curious
I Am Not Sure If I Want To Be A LeSS Practitioner. Are There Other Options?
There certainly are.
Our Certified LeSS Executives course is a fantastic course to help Scrum Masters, Agile coaches, Managers, and Leaders get their heads around the deeper organisational change elements essential over time when embracing Large Scale Scrum.
If you are at the beginning of your LeSS journey, try our Certified LeSS Basics Course, it is a brilliant way to understand the core of LeSS, such as the Single Sprint or Adoption Approach, all through interactive exercises and Q&A.
Of course, if you are a Scrum Master looking to take their agile team coaching and facilitation skills to the next level, you should take a look at our Certified Team Coach and Facilitator courses.
If you prefer the small group personal touch, then join our Scrum Mastery Mentoring Circle and join like-minded agile experts to learn from each other and be mentored by one of the UK's finest, Ben Maynard.
Meet Your Trainer- Ben Maynard
Ben's journey towards becoming a Product Agility expert began with the standard Scrum Alliance courses based on the teachings of Jeff Sutherland and Ken Schwaber. He worked as a team member in Scrum Teams and believed he had reached the end of his Scrum journey. However, when Ben attempted an Agile Project Management course, it turned out to be a forgettable learning experience.
Feeling disheartened by the agile world, Ben was recommended a book called "Scaling Agile and lean development" by Craig Larman and Bas Vodde, which helped him forget Agile Project Management and fully embrace Product Agility.
Since then, Ben has focused on experimenting with ways to balance an organisation's desire for control, collaboration, and innovation to un tap the true potential of Product Agility. This has involved educating, coaching, and leading organisational transformations to move from traditional technology organisations with broken supply and demand models to organisations that move beyond this ineffective model towards the intersection of Product Management and Agility – Product Agility. 
The growth of people to be effective in achieving organisational and personal goals is the critical catalyst for success. Coaching, training, and mentoring people at all levels of the organisation are key components of this approach.
As the host of the Product Agility podcast, Ben gets to learn from industry experts from both the worlds of Product and Agile. All of this learning he loves to share all with his audience and factor it into every engagement, talk and article Ben writes or contribute towards.
Meet Your Trainer- Bas Vodde
Bas Vodde is a coach, programmer, trainer, and author related to modern agile and lean product development. He is the creator of the LeSS (Large-Scale Scrum) framework for scaling agile development. He coaches organizations on three levels: organizational,  team,  individual/technical practices. He has trained thousands of people in software development, Scrum, and modern agile practices for over a decade.
He is the author of Large-Scale Scrum: More with LeSS,  Scaling Agile and Lean Development: Thinking and Organizational Tools for Large-Scale Scrum, and of Practices for Large-Scale Agile and Lean Development, all together with Craig Larman.
Bas works for Odd-e, a company that supports organizations in improving their product development, mostly in Asia and Europe.
Bas currently lives in Amsterdam again, after living in Singapore, China, and Finland. He worked in start-ups and in very traditional environments. This last uncomfortable experience convinced him that agile and lean development is a more human way of developing software products -- no matter how large your development is.
He had the opportunity to introduce Agile Development (particularly Scrum) in Nokia Networks (formally NSN) but had to move to Helsinki. There he watched dozens of product groups adopt scrum and other agile practices. The extreme cold in Finland forced him to migrate south and back to China where he focused on one large product group and its Scrum adoption.
Bas is interested in Scrum with a special focus on large companies and large product development. But he also enjoyed working on technical practices, especially test-driven development (particularly in embedded environments) and continuous integration.  He keeps working as a developer because he strongly believes you need a well-factored code base if you want to be fast and flexible. His hobbies are studies in lean production and quality management and, of course, programming.
Bas is also one of the authors of the CppUTest unit test framework for C/C++ and of Osaka a Mac UI automation framework written in Ruby.
Large-Scale Scrum (LeSS) is a framework for scaling agile product development to multiple teams.
LeSS builds on top of the Scrum by providing clear guidance on how Product Owners, Scrum Masters and agile teams need to adapt their ways of working and thinking to rise to the challenge of scaling agile.
More than this, it provides simple structural rules and guidelines on how Scrum Masters and Managers can adopt Scrum in large or huge product development.
Whether you are a Scrum Master looking to continue your learning journey or a Product Owner wondering how to achieve your goals when you have multiple teams using Scrum, this course will give you a fresh insight into agile development at scale.
The Large Scale Scrum (LeSS) framework
The Certified LeSS Practitioner® course is a highly interactive, in-depth course covering the LeSS principles, framework, rules, and guides. It provides essential information for adopting and continuously improving your organisation using various thinking tools (whether using LeSS or not).