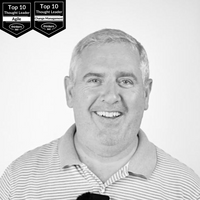 Welcome from the creator of Orderly Disruption & Xagility
With 15+ years experience, John Coleman is a Thinkers360 top 5 agility thought leader, Scrum.org Professional Scrum Trainer and former course steward, co-author of Kanban Guide and Prokanban.org Professional Kanban Trainer, LeSS Friendly Scrum Trainer, founder and host of Xagility™ and Agility Island podcasts.
John has been named Top 50 Agile Leaders of 2022.
John has recently launched Kanplexity and Executive Agility (Xagility).
Whether you are looking to get your certification or you are an organisation looking to scale and/or use agile, John is here to help.
John's upcoming classes
Become a certified professional scrum master, product owner or certified professional kanban practitioner today!
The latest from my podcasts
Don't just take our word, take theirs
John is an incredibly helpful instructor---I completed the Agile Leadership course with his assistance, and his explanations were always very clear and emphasized the big picture thinking of Agile. The work in the class was very dynamic, looking at scenarios and working in small groups or pairs to discuss our ideas. I also appreciated his real world examples from his extensive work experience and knowledge base. John also has a wonderful sense of humor, an ideal trait in a teacher. Thank you!

Erin Donaghy, May 2022
Inspirational, insightful and engaging
John thank you for your support guiding over 100 of our Agile Leaders through PSM1. The feedback from the groups was phenomenal with people sharing how much they liked your depth of knowledge, facilitation and support - Thank you! Could not recommend John highly enough - fabulous experience.

John Brookmyre, January 2022
I recently attended the Professional Scrum Master training from Scrum.org@(Online) facilitated by John Coleman.
Thoroughly enjoyed the whole experience, right from the Coaching to the insights into Scrum framework through the use of interactive scenarios and feedback sessions after. John's hands-on approach coupled with his use of appropriate coaching tools and his explanation of the various topics with practical experiences made this an insightful training. Will take away a lot of practical tips to use in my day-to-day application of Scrum.
Needless to add, it was easy to pass the exam post the training as the concepts were crystal clear.
Looking forward to our continued interactions and benefit from John's deep knowledge of the application of Scrum.
Will definitely highly recommend this training and the trainer John Coleman!

Cedric D'Sa, December 2021
Hire John as your speaker
Top 10 Thought Leaders
Join us in celebrating John Coleman as he receives his title in the Top 10 Thought Leaders. This achievement along with John's incredibly exquisite and advanced experience makes him the perfect speaker candidate for you!